Vacuum Contactor Replacement For 5kV Ampgard II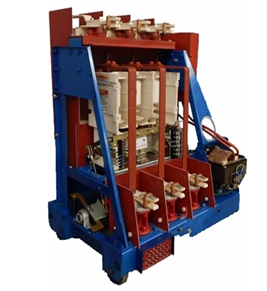 Vacuum Contactor Replacement For 5kV Ampgard II
Supply vacuum contactor replacement for the Westinghouse Ampgard II model 527A427 motor contactor.

The vacuum replacement will include the following:
Connection to existing Westinghouse Ampgard cubicle without cubicle modifications.
Mechanical interlocks to mate with the original cubicle.
No asbestos
Insulated 5 KV bus.
Vacuum contactor suitable for 250,000 electrical operations.
Vacuum insulated contacts.
Improved contactor opening and closing time.
The new vacuum contactors reduce maintenance, improve safety and prolong the life of the contactor without changing the MCC or switchgear lineup. The new vacuum contactors eliminate heavy arc chutes containing asbestos and contain the electrical arc within vacuum bottles for safer and faster operation. Vacuum contactors offer 250,000 electrical operations before requiring contact maintenance or replacement.