Breakers and Switchgear - Low Voltage - Below 1KV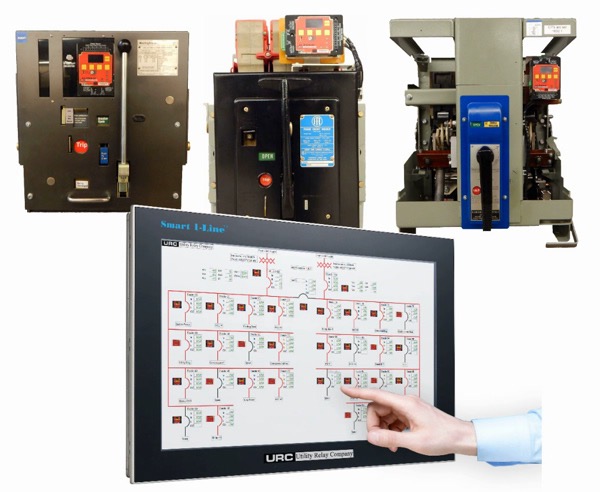 Power circuit breakers should be upgraded with electronic trip units with arc flash safety features. Power Precision rebuilds and modernizes low voltage power circuit breakers with new solid state trip relays with the following features:
LT, ST, INST, GF current trips
Voltage alarms and trips
Sluggish breaker detection
Self test feature with LED indication
Time stamping of events
Real time metering of A, V, KW, KVA, PF and more
Waveform capture
Network data communication of meter data and settings for central data collection and settings management
USB port for reading of metering data and programming settings without opening cubicle doors (additional door mounted display will also be available soon)
External maintenance mode selector for activation of faster trip settings for arc flash energy reduction during maintenance
Handheld plug-in trip controller for tripping of breaker from a distance
Programmable scheduled maintenance interval
Remote QUICK-TRIP® arcflash mode control
Remotely closeable E/O breakers
Arc flash safety can be improved by connecting new breaker trip units to a communication network. The breakers can then be monitored online for the above metering parameters, breaker status, time stamps, breaker settings, alarms and central management of all breaker settings and maintenance data from a safe, central location.
LV Breaker Arc Flash Safety Features

Remote displays and handheld remote breaker controls can also be used to operate and program the breaker from outside the arc flash boundary. Click the link above for more information.
Smart 1-Line is a modern turn key solution for monitoring your breaker trip unit network at one convenient location. It displays a field-configurable electronic one-line diagram with breaker readings, status, electrical metering, sluggish breaker alarms and more.
Rugged, fanless, touch screen industrial computer
Solid state drive
21.5" high-definition touch screen
For arc flash and worker safety, CSA recommends regular testing and maintenance of circuit breakers. See information from CSA below.
CSA M.4.1 Circuit Breaker Maintenance Frequency
We can upgrade breakers or supply breakers to match. Examples of breakers in our stock are listed in our Online Store.