Equipment Improvement and Life Extension
View some equipment enhancing products below in our
Online Store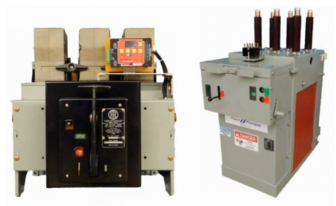 Power Precision performs upgrades and improvements to circuit breakers, switchgear, motor controls and substations.
Upgrade breakers with modern electronic trip units.
Supply and install new protection relays in switchgear.
Build vacuum breakers to fit existing switchgear.
Improve safety and reliability without replacing complete substations.
Upgrades also remove asbestos.
CSA Z463 - Guidelines on Maintenance of Electrical Equipment, Table M4.1 recommends LV power circuit breakers be upgraded with new electronic trip units and MV breakers be upgraded to vacuum breakers.